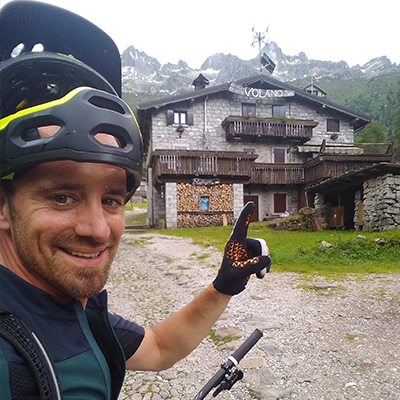 Matteo Aielli
My name is Matteo, I live in Ponte di Legno, in the highest Valcamonica, where the wild nature of the mountains surrounds this magical village between the Stelvio National Park and the Adamello-Brenta National Park.
I am an architect, I lived for a long time in Finland and from this country I could visit both Swedish Lapland and Northern Norway.
Another place that makes me feel at home is Elba island, where I go almost every year since I was a child and where I organize excursions based on various types of requests. The contact with nature has always had great importance in my life choices and, once back home, having already obtained the qualification of MTB instructor of the Italian Cycling Federation, I decided to complete the training and becoming a Nature Interpretive Guide.
Facing the same itinerary on foot rather than on a bicycle involve a completely different approach, not only from a playful-sporting point of view, but also from a naturalistic point of view. If hiking favors the landscape and local traditions discovery on a slow pace , the bicycle allows you to cover greater distances spot new itineraries and gives you more of an adventure feeling. In my spare time, I love outdoor sports like snowboarding, alpine skiing and ski mountaineering, but also climbing, triathlon, kiting and mountain running.
My excursion offer, mainly linked to my homeland, also includes areas where I could express my exploratory nature, making them immediately a peculiarity of my repertoire of Nature Interpretive Guide. In addition to the pristine landscapes and the most striking naturalistic views, you will come into contact with the native fauna and flora, you will learn about the scents and the main properties of the flowers and plants of these territories, you will discover the stories and legends that have been handed down from generation in generation among the local population. If you like adventure and you want to try new cultural experiences in nature, I will be happy to be the guide of your next trip.